Even when you want to save money, it doesn't mean you can't have romantic evenings with your significant other. From cooking together to stargazing and strolling around Little Venice – London is full of romantic, budget-priced (or free!) things to do.
Whether you're looking for something romantic to do on Valentine's Day, a cheap date-night with your new boyfriend/girlfriend, or even a budget way to celebrate your wedding anniversary – these ideas will help you spend a romantic evening together without breaking the bank.
Some are London-specific, while some can be done together at home (or anywhere in the world). Also note that it might be difficult to find a spot on Valentine's Day in some places, while others cost MORE on Valentine's Day. So… why not mark the event a day ahead or the day after? Just because there's a marked day on the calendar, doesn't mean you can't be romantic – for cheaper – on the next day.
It's so much more romantic when you DON'T have to take a loan just to celebrate something romantic…
I'm happy to say I personally tried most of these – and some are on my bucket-list – hey, there's always another Valentine's Day!
1. Romantic Picnic in the park
I love every excuse to go for a stroll in the park – and going together is even better. Make some sandwiches at home, fill your thermos with tea, and find a nice quiet spot at your favourite park for a romantic picnic.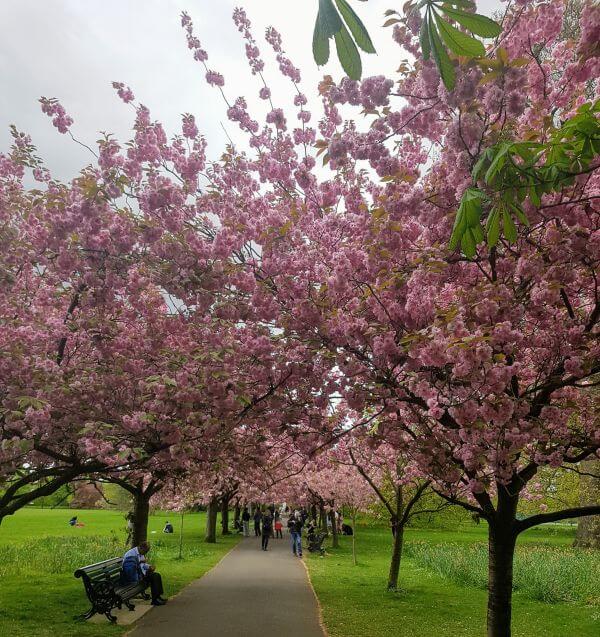 If you're in London, you have a multitude of options – from Greenwich Park to the beautiful Japanese garden in Holland Park, and of course Hyde Park. Do note that some parks are closed after sunset – so check ahead, or make it a day-time picnic!
2. Go stargazing together
It's one of the oldest date-night ideas in history – watching the stars together… If you live in a busy city like London, finding a place to actually see the stars isn't easy, due to light-pollution.
But don't despair! Look for a remote area – preferably a park where the trees help block the city lights. Ruislip Lido, a reservoir in the London Borough of Hillington is one such place. There's a big park there, and even an artificial beach – and while you won't get to see a perfect sky there, you'll see more stars than you would in central London…
3. Go for a cheap show/musical/event
Sure, musicals and theatre shows can be quite expensive. But if you use a few tricks, you can find some super-cheap tickets. From lotteries to discount apps and seat-filling opportunities, I wrote a full guide on how to get cheap tickets. 
4. Go to a museum together
Enjoying art together is wonderful. Some prefer romantic paintings from the ages, while others might want to look at dinosaur skeletons – whatever ticks your box. And with so many museums that offer free entry in London – you just have to pick and choose.
5. Afternoon Tea – At Home
Afternoon tea – where you sip tea and eat finger-sandwiches and cakes, is a wonderful experience. For some reason, it's mostly done by tourists these days (and maybe The Queen) – so prices have sky-rocketed around London.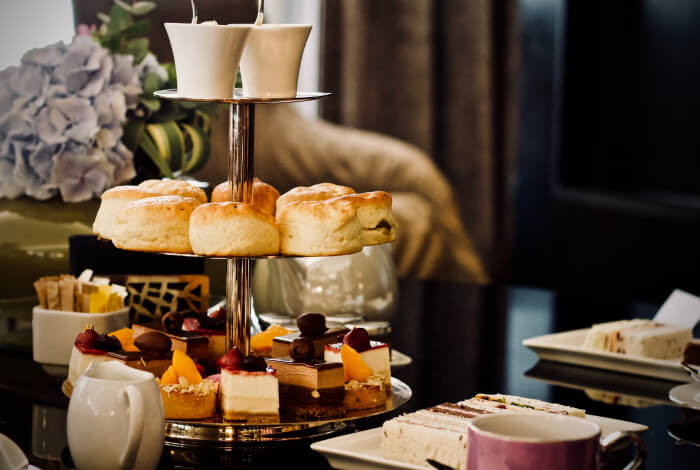 However, who says you need to go to a fancy hotel for a romantic afternoon tea experience? Surprise your Significant Other with a home-made afternoon tea event – there are a lot of great recipes you can use.
6. Romantic Meal At Home
If you're not a tea-and-scones kind of person, think of another dish that both you and your partner love – and prepare it for them. Light some candles around the house, set the table in advance, and have everything ready by the time they come home…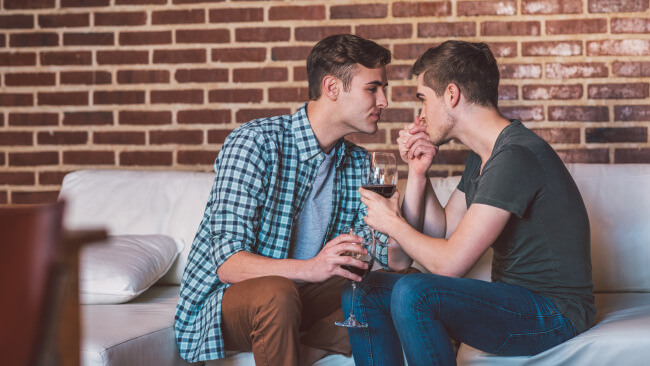 You can even decorate the house with a specific theme in mind – have a Disney evening, or a Horror-Movies evening (no need to wait for Halloween!).
7. Cooking Together
It's such a fun activity to share – and you don't even need to pay for expensive "cooking seminars". Even if you don't have a lot of cooking/baking experience, there are loads of free tutorials on the web. And yes, blowing flour all over each other is a cliché – but for good reason…
8. Enjoy a Movie-Night at home
There are ways to get very cheap cinema tickets in London – but you know what's even cheaper? Watching a movie at home. Pick something to watch on Netflix, or Amazon Prime Video, or even go old-school and buy a DVD for a pound in one of the charity/pound stores.
Of course, if you prefer, you can also binge-watch a TV show together, instead of a film.
Then, pop a bucket of popcorn (Pound stores are your friend), throw a bunch of crisps packets on the bed, turn off the lights, and… chill.
9. Have a Dance-Off at home
Sure, you can go out to dance in a club. But it'll usually cost you – the drinks, the food, not to mention how busy everything is if you're going on Valentine's Day.
But who says you need to go anywhere to dance? Clear out some space in your living room, load some romantic/pop/ABBA songs, and start dancing with your partner.
Yes, it might feel weird at first, doing it "alone" – but you'll finally be able to dance as if no one's watching – because no one will be watching, literally.
10. Go for a cheap meal outside
While not as cheap as cooking at home, even restaurants can be quite cheap if you use the right offers – a dinner for two, with soft drinks, for £8 isn't unheard of. (Even if you're Gluten-Free!)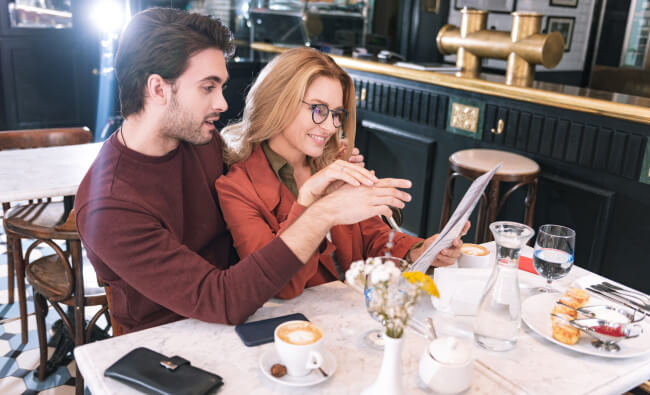 Just keep in mind that some vouchers and discounts don't work on busy nights like Valentine's Day – so take up my offer on going out a day before, or the day after – I won't tell anyone if you don't…
11. Go for a romantic stroll around Little Venice
It's a lovely – and very romantic – area of London. The Grand Canal near Camden has boats in it – but those will cost you. Instead, just walk alongside the canals – you can find walking routes here.
12. Have some "childish" fun at the Hamleys Toy Store
The Hamleys toy store, located in Regent Street is a six-floors-high store full of toys, employees that run around demonstrating how toy helicopters and magic tricks and light shows work, and a wonderful atmosphere of fun.
The toys themselves are rather expensive – but there's no need to actually buy anything. If you and your partner are still children at heart – you'll have a great time.
13. Watch London Views at the Sky Garden
There's no reason to buy expensive tickets for The London Eye or The Shard, just to get some wonderful sky-high London views.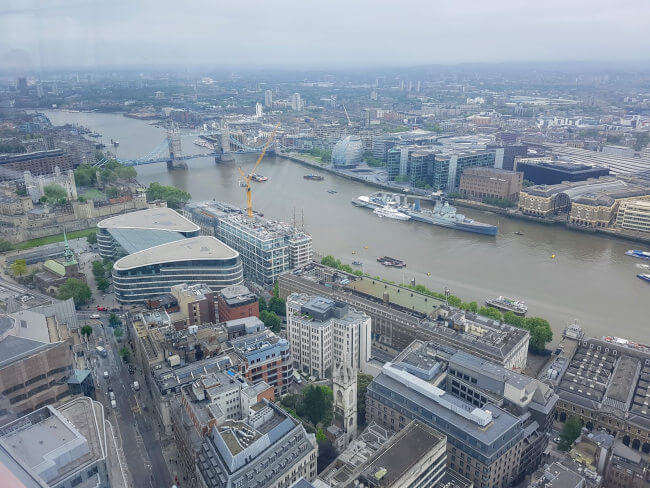 Instead, you can go with your partner to Sky Garden at the 20 Fenchurch St. building, also known as London's sixth-tallest building. The upper floors offer spectacular views of London, and best of all – admission is free.
However, you have to order tickets in advance – new tickets open up every Monday for one or two weeks ahead. Good luck finding tickets for Valentine's Day, though…
14. Ride The Emirates Cable Car
Another place to see some spectacular London views is on the Emirates Air Line cable car. It runs between the Greenwich Peninsula (near the O2) and the Royal Docks, and you don't even have to order tickets in advance – you can just use your regular Oyster card.
A one-way ride, with an Oyster, costs just £3.50.
15. Have a board games night
Mind you, we're not just talking Monopoly here – there are so many excellent board games out there these days, and some are quite cheap on Amazon. But even better, if you're not looking for a specific one, you can often find second-hand board games in charity shops.
And if, like my husband, you don't like playing AGAINST each other (especially on date night…), there are some interesting games where you play together, cooperatively, "against" the game – Pandemic is a very popular example.
16. Have a role-playing night (with costumes)
Costumes are not just for Halloween. You can pick a theme in advance (Arthur's knights, Lord of The Rings, Twilight… to each his own!), decorate the house accordingly, and then each of you dresses up to the occasion, and you spend the entire evening in-character. Of course, what might follow during the night is a topic for a whole other post…
17. Go Shopping – In Charity Shops
Going shopping together can be a lot of fun – but if you're looking to save money, it's not a very good date-night idea. Then again – that's what charity shops are for!
You buy second-hand stuff, you help a charity, AND you can find some real bargains. And it's always an adventure – some charity shops hide some really peculiar stuff, things you would never find at a regular store – so it's fun for both of you…
18. Pick up a DIY project at home – and do it together
Have you been meaning to paint the bathroom walls for ages? How about that shelving unit you've been meaning to build? Working together on a fun Do-It-Yourself project at home can be a nice bonding experience.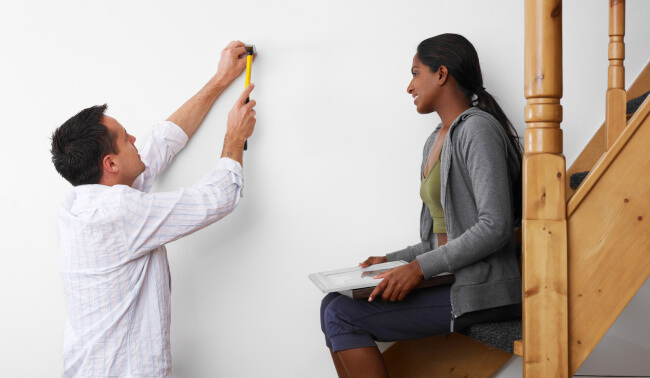 Just make sure you're both patient – no one wants to fight on date night over the right way to use a screwdriver…
19. Walk along the Thames
Back out to the streets of London – we sometimes take our city and its beauties for granted. The Thames is not just some water you pass by when you're on the train – it's actually a beautiful, soothing river, if you take the time to really look at it.
And there are some great romantic walking spots, where you can walk and view the river. Southbank is a good example, and you can usually find a place to buy some drinks there.
20. Go to one of the open markets
When you're looking to save money, markets (such as Camden Market, Borough Market, etc') can be a tricky place – they tempt you with tasty food and expensive knickknacks. But if you go in knowingly, just to experience the sights and sounds, it can be a cheap and interesting place to stroll through.
If you're hardcore, you can even bring sandwiches and drinks with you. Otherwise, you can still buy some cheap food at the stalls.
21. Have a No-Phones night
This actually relates to ALL the date-night ideas on this list. Decide, in advance, that on your special night, you're going to TURN YOUR PHONES OFF. And that includes not looking at your laptop, or iPad, or any tech devices for that matter.
You would be surprised at how much your partner can look – and sound – differently when you actually take the time to look and listen, and not get distracted by all those beeps and notifications.
Happy Dating!