Amazon Prime is a paid subscription service from Amazon UK that gives you a host of perks – from free delivery to streaming TV and music. But is it worth your money? The short answer is… it depends. And here's why.
If you search for anything related to Amazon Prime on Google, you'll find around 3,848,372 articles on "Secret Amazon Prime Perks You Didn't Know About."
So let's face it – by now, you probably know most of these Amazon Prime benefits by heart, even if you're not a subscriber. The reason there are so many articles? Sites get paid a commission from Amazon for every subscription done via their link – as do I – so that's a good incentive to remind you of all those wonderful perks.
Cynical as I am, this doesn't mean Amazon Prime isn't good. I've had it ever since I moved to London and I love it – it gives me tremendous value for money.
But at £79/year (or £7.99/month) it's not for everyone – so let me try to help you make your own decision.
Secret Amazon Prime Perks You Didn't Know About
(No, they're not really secret. But Amazon sometimes does a bad job of explaining some of these perks…)
First, even if you're new to London and you came from a country that doesn't have a local Amazon branch, you obviously know who they are. The biggest online store on Earth, the UK branch of Amazon sells everything from batteries to lawnmowers to gluten-free pasta.
The prices are usually excellent – almost every time I think to myself it's time to give a different store a chance – I end up going back to Amazon, because they're usually (but not always!) the cheapest. Plus, their customer service is, in most cases, excellent.
Amazon Prime is a service with one main goal: To get you to spend more time on the Amazon ecosystem, and therefore spend more money with Amazon.
With that in mind, the benefits you get for those annual £79 (there's also a free trial and a reduced price for students – more on that in a second) are there to do just that – make you buy more stuff from Amazon (with free shipping), watch streaming video through Amazon's service, listen to music on their service, read books on their service… you get the point.
The main benefits you get as an Amazon Prime subscriber are:
Free One-Day Delivery
With Amazon Prime, you get unlimited free one-day (and with some products even same-day) delivery. You do need to order the item up to a certain cut-off time of day (it changes between different products), and not ALL items sold on Amazon are eligible – but millions are (you need to look for the Prime logo on eligible items.)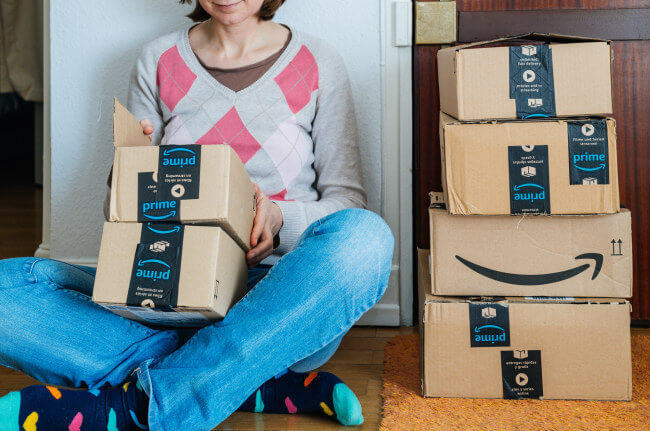 Without Prime, regular shipping on most items ranges from £2.99 to £5.99. However, everyone gets free regular shipping (not one-day) on orders above £20. So if you mostly order products that cost more than £20, or if you can accumulate enough products in a single order, and don't mind waiting 3-5 days for the delivery – then Prime shipping won't matter much to you.
Additionally, as a Prime member, if you choose free No-Rush Delivery instead of One-Day, you'll get the package in 3-5 days, but also get a promotional perk – usually £1 of "Online Credit" that you can later use to buy video content, music, etc'.
Since I order almost everything from Amazon, big and small, I do often take advantage of the free one-day shipping.
The Small Print: 
Some lower priced items (usually around £2-£5) are marked as "Add-on Items". You can still get them shipped for free, technically, but only as part of a £20 order, because it isn't cost-effective for Amazon to dispatch them by themselves.
When you look at some lower priced items, the magic of Prime shipping is ruined a bit. You can often see the same exact item sold with Prime shipping for a certain price, and then see another seller on Amazon selling it for a lower price – sometimes £2-£3 lower – without Prime shipping. That means your "free" shipping is actually built into the higher price. And while it's not always the case – and usually NOT the case with higher-priced items (though then you could get free shipping anyway) – it still makes things a bit less cost-effective.
Here's a tip: If you order Prime one-day shipping, and the delivery is late and DOES NOT arrive in one day – you can complain to Amazon. In many cases, they will award you with an extra free month of Amazon Prime.
Prime Now 2 Hour Shipping
Live in London? Lucky you – Prime Now is a super-fast delivery service exclusive to Amazon Prime members, where you can get products delivered to you within two hours (and even one hour in some areas.)
The Small Print: 
The Prime Now catalogue is limited to around 15,000 items.
Minimum order must be above £15.00, and you pay £2.49 for the delivery. If you order above  £40, delivery is free.
I've used Prime Now a couple of times when I needed some stuff urgently, or when I didn't want to wait around all day for something, The fact that you get a 2-hour delivery window, as well as accurate tracking on the app (you can see where your delivery guy is), makes it extra convenient. However, the extra delivery costs keep me off it for every-day use.
Early Access To Lightning Deals
One of the pillars of marketing is to create scarcity and limited time deals. And Amazon has just that, in the form of their "Lightning Deals" – offers and discounts that change every day (and some even every hour). Since the stock is limited on some of these deals, you might get an advantage with an early access on some of the more popular products.
So, as a Prime member, you get to shop some of those time-limited Lightning Deals 30 minutes ahead of everyone else. I don't think I ever used this – but it might do you some good on crazy shopping days like Black Friday.
Additionally, you'll sometimes notice products on Amazon that are either for Prime member ONLY – or with a special price for Prime members.
Amazon Prime Instant Video
Prime Instant Video is Amazon's answer to Netflix: A streaming-only video service with a library of thousands of TV programmes and movies that you can watch for free (as part of your Prime subscription).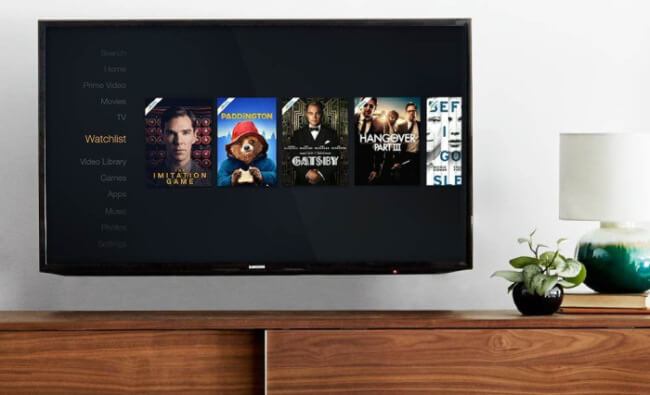 You can either watch on your computer, on your phone, or on your telly – if you have a streaming device such as the Amazon Fire TV.
While Amazon's TV and movies selection isn't anywhere near as comprehensive as Netflix', it's not bad – and they also have a growing collection of exclusive Prime Originals, such as The Grand Tour, The Man in The High Castle and others.
Check out my UK cord cutting website, Cord Busters, for a full Amazon Prime Instant Video review.
The Small Print: 
If you don't want a full Amazon Prime subscription, you can also subscribe to the video service alone, for £5.99/month.
Don't get confused with the full Amazon Instant Video catalogue – most of the programmes and movies there are for individual purchase or rent. Only the content marked with "Prime" is available as part of the Prime subscription.
Amazon Prime Music
Prime Music is the little brother of the full streaming music services (such as Spotify). It only has 2 million songs (compared to over 40 million on the big services), but it's a nice free add-on to Prime. You can listen to the music on your PC, on your phone, or on your Amazon Echo device.
As a Prime member, you can also get a discounted subscription to Amazon Music Unlimited: £7.99/month or £79/year. Non-Prime members pay £9.99/month (same as Spotify.)
Prime Photos
With so many photos on our mobile devices (and computers) these days, it's crucial to backup. There are several photo-backup services out there (including Google Photos).
Prime Photos is Amazon's backup service – and it's free for Prime members. You get unlimited online photo storage, for yourself as well as up to five friends or family members that you can invite into the same "vault".
You can backup from – and access the photos on – your phone (iOS and Android), your tablet or your desktop computer.
The Small Print: 
You also get 5GB for Amazon Drive – where you can upload other types of files as well. If you want more than that (for content other than photos) – you'll have to pay.
If you ever cancel your Prime subscription, your photos will be deleted from the service after a short grace period.
Amazon Prime Book Perks
Remember when Amazon was just a bookstore? These days, a lot of the literary activity happens without any paper, thanks to Amazon's Kindle books. You can read these digital books either on an Amazon Kindle ebook reader, or with a Kindle app on your phone/tablet/PC.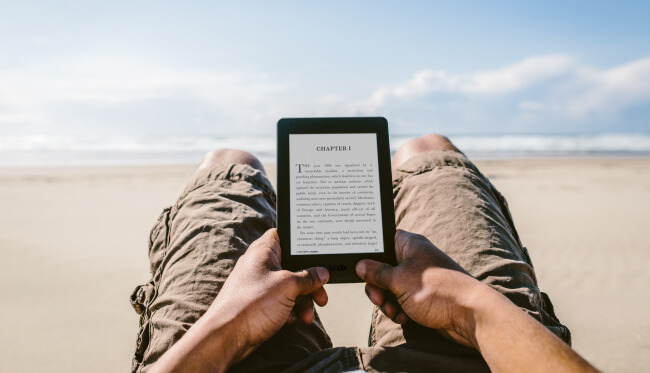 As a Prime member, you get three somewhat-confusing book-related benefits:
Prime Reading: Each month, Amazon creates a library of over 1,000 digital books and magazines that you can "borrow" as a Prime member. You can then read those books/magazines on any of your devices with a Kindle app. Do note this is different from Kindle Unlimited, which is a similar idea but has a library of more than 1 million books and magazines, and costs £7.99/month.
Kindle First: Amazon First Reads is a service that lets you download a digital version of a book that hasn't been released yet – before everyone else (from a curated selection that changes every month). Normally the book would cost you £0.99 – but Prime members get it for free.
Kindle Owners' Lending Library: Confused yet? Amazon's third book-related perk is for Amazon Kindle device owners only (so no phones/iPads/desktops). You get to digitally "borrow" one book, from a selection of over 600,000, every month. Once you "return" the book (without a due date), you can then borrow another one for free (one per month).
Amazon Pantry
You might be surprised to learn that Amazon does grocery shopping as well – though they confuse things a bit by having two separate grocery services – Amazon Pantry and Amazon Fresh. Both are exclusive to Prime members. (And to confuse things even further – there's the plain Amazon Grocery, for all customers.)
Amazon Pantry: A unique service which lets you fill… a box. With groceries. Then you pay £2.99 for that box to be delivered, and 99p for each additional box that you require. There's also an ongoing offer, where if you buy 4 eligible products, you get the delivery for free.
Amazon Fresh: Unlike Pantry, Fresh is a more "traditional" online grocery shopping website – there are no boxes to fill. The service, however, costs £3.99/month (on top of your Prime membership), in addition to the £3.99 delivery fee. Orders above £60.00 get free delivery.
I only ever used Fresh when I had a 3o-days Free Trial (you can get one here.) I don't like the idea of paying a subscription just for the privilege of being able to order groceries – and then add a delivery cost on top of that. But do go ahead and give them a try, as they at least have some nice fresh produce from local markets. (Also check out my big supermarket guide.)
Twitch Prime
Twitch.tv is a video-on-demand service that focuses mainly on video game live streaming. (That means people who play video games – and stream their game and their reactions, live, while chatting with the audience.)
Twitch is now owned by Amazon, and as a Prime member you get the ability to subscribe to one Twitch channel each month for free. (When you subscribe to a channel of a favourite Twitch streamer, you get special perks and benefits from them – and they get paid.)
Additionally, each month you'll get free full games from Twitch, as well as in-game bonuses for a variety of titles.
Amazon Family
If you're a parent (or planning to become one soon), Amazon Family wants you to create a profile about your children. Once you do, you're also eligible to get up to 20% off on eligible nappy and baby food subscriptions. (An Amazon product subscription means you get regularly scheduled deliveries of the products you're subscribed to. You can always cancel these subscriptions, but as long as you keep getting them, you also get a discount.)
The Small Print: 
In order to get  20% off, you need to be subscribed to at least 5 different products.
If you have an Amazon Student Prime membership (see ahead), you're not eligible for the Amazon Family discount.
Amazon Household
You and your spouse/partner both have Amazon accounts and want to use them separately? With Amazon Household, you can share most of the Prime benefits with one other adult who lives in the same address as you do. That way, they can use the Free One Day Shipping from their account as well, watch Prime Instant Video, etc'.
The Small Print: 
In addition to being registered at the same address, the two adults also have to share their credit/debit card details between their accounts – so you can't just pick any random friend off the street and create a "household" with him.
Kindle First, Twitch Prime and Prime Video Downloads can't be shared.
Prime Student members and Prime Video-only members can't share benefits.

Amazon Prime Free Trial
OK, so all these perks and benefits look tempting, but you're still not sure Amazon Prime is for you? Good news – you can try it for free for 30 days.
During those 30 days, you can use the unlimited free shipping, watch Prime Video, and basically use all the perks mentioned here.
And here's another tip – you can get a new free trial every year (after 13 months) – for some people, that might be enough. For example, if you mostly use Amazon around Black Friday, you can time your free trial to November.
The Small Print: 
The Amazon Prime free trial renews automatically, so once the 30 days are up, you WILL be charged for the full year – unless you cancel ahead of that date. So don't forget to cancel if you don't plan to keep Prime for a full year.
Occasionally, Amazon offers discounts on Amazon Prime. It doesn't happen every year, and you can't stack up years if you're already a member – but still worth to keep your eye out for those offers, mainly around Black Friday.
Amazon Prime For Students – Get 50% Off
If you're a student, Amazon's got an even better deal for you with Amazon Prime for Students – first, you get a free trial for 6 months. Once the six months are up, you can subscribe for a full year – for 50% off. So currently £39/year.
Additionally, as a Prime Student, you get 10% off a selection of textbooks, and up to 20% off on the Amazon Basics line of products. Over the year you'll see more perks and discounts.
The Small Print: 
To sign-up for Amazon Prime for Students, you need a valid .ac.uk e-mail address which will be used to verify your status. If you don't have one, you'll need to manually provide Amazon with documentation that proves you're a student.
You can get Amazon Prime Student for up to 4 years, or until you graduate – whichever comes first.
During your six-months free trial, you're not eligible for the Kindle Owners' Lending Library, Kindle First, and Household sharing. Plus, students can't get the Amazon Family discounts.
The Bottom Line: Is Amazon Prime Worth It?
So now, after this mountain of words, comes the million-pound £79 question – is Amazon Prime worth the money?
For me, it is – but your circumstances might be different. If you buy a lot from Amazon, and they're your go-to place for most of your shopping, then the free one-day shipping alone is probably worth the annual cost. True, you could always wait until you accumulate £20-worth of stuff and get a free (3-5 days) shipping anyway – but if you buy a lot, it's somewhat of a hassle.
None of the other perks, in my opinion, are worth the annual price if you look at them as separate from the others – even Amazon Prime Video isn't up to par with Netflix, at least at this point in time.
But if you combine all these perks together, AND you're an avid Amazon shopper – the value for money becomes more favourable.
My advice? Start with the 30-days free trial, and test everything out. See if you enjoy the free shipping and whether you like Amazon's products and prices. Check out the Prime Video library. See if you have any use for the book deals.
And once your 30 days are up – THEN decide whether you want it for a full year. And remember – after 13 months, you can get ANOTHER free trial for 30 days.
Happy Amazoning!