Heads up, Sainsbury's Nectar users – this weekend (October 26 to October 28) you can get bonus Nectar points on each purchase of £10 and above. And there's a way to get even more (while becoming a nuisance at the till).
The "Nectar" loyalty card lets you collect points (1 point per £1), and then use these points either at Sainsbury's or in a variety of other stores. When you use these points, 200 Nectar points are worth £1 at Sainsbury's, though there are often special offers at other participating stores, where the points are worth more. (And if you're not sure what this is all about – read my UK Supermarkets Guide here)
This weekend, Sainsbury's "Swipe and Win" promotion is back (it's usually on a couple of times a year). For every £10 you spend at the supermarket till (or at participating Sainsbury's petrol stations), you get a random coupon with bonus points. (Note: the promotion is excluded from Sainsbury's Local stores).
The coupon is guaranteed to give you a minimum prize of 200 points, but there are higher prizes available – up to 5,000 points (worth £25 at the basic rate.) When you get the bonus coupon, you have to scan it on your next purchase to get those points – but you have to do it before November 11, so make sure you don't forget.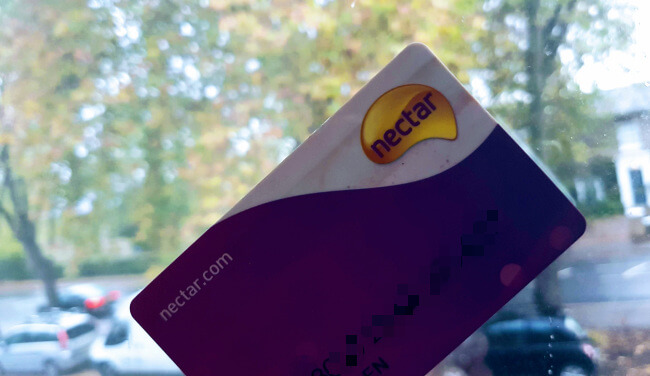 Your chances of getting one of the higher prizes are:
85,867 prizes of 5,000 Nectar points
171,733 prizes of 2,000 Nectar points
257,600 prizes of 1,000 Nectar points
1,545,603 prizes of 500 Nectar points
Do note that the coupons do not multiply on their own. So if you spend £100, you won't automatically get 10 bonus coupons. However – there's a way to beat that, which is what I do every time this promotion is back:
Divide your purchase into separate £10-worth parts. It's best to use the Self Scan for this (otherwise you might get a very annoyed checkout employee). Start scanning your products, and every time you reach £10, you stop – pay the bill, get the coupon – and start a new purchase, with the rest of your products, until you reach £10. Rinse and repeat. (And try to be polite to the beady-eyed persons behind you in the checkout queue).
When you use this trick, you can also keep scanning your bonus coupons every time you get them – and eventually will only be left with one (the last one) – don't forget to scan that one before November 11.
See the full Terms and Conditions for the Swipe and Win promotion here.
Sainsbury's Double Up Is Coming
As mentioned, 200 Nectar points are normally worth £1 at Sainsbury's. But every year, about a month before Christmas, Sainsbury's hold their "Double Up" event – where your points are worth DOUBLE what they usually do (but only on certain product lines, and with some caveats.)
This year's Double Up event will take place between November 12 and 18 – so the "Swipe and Win" promotion is a good chance to boost up your points before November.