London's Black Cabs are not cheap, but they're safe and reliable, and sometimes you really need one. Gett's Taxi app aims to help you order a Black Cab and pay for it via the app. Should you use it? Find out in my Gett review.
Although I try to live a frugal life, even I sometimes need a taxi in London. Not a mini-cab, or an Uber, but an actual Black Cab. (Mostly when I need to take my cat to the vet… but that's a whole different post).
So naturally, the days of going out to the street to hail a cab are long gone (try doing that south of the river!), and Black Cab apps are all the rage these days.
After years of using Gett, I know most of their pluses – and minuses. In this review, I'll take a look at how to use the app, its pricing model, and whether it's the right choice for you when you'll looking for a cab in London (or the rest of the UK for that matter – but I'm most familiar with London, as expected).
Wait! Want to jump ahead and download the Gett app?
Use this link
, or coupon code
GTVVAQT,
to get £3 Off your first five rides. (And I get a bonus from them as well, when you do)
What Is Gett?
Gett started its life as an Israeli company called Get Taxi back in 2010. As the name implies, they were a taxi-hailing app, operating first in Tel Aviv, then expanding to London, Moscow, and eventually New York.
These days, they operate in more than 100 cities, across four countries. (The name was changed from Get Taxi to Gett when they started branching out – in some countries – to deliveries).
In the UK, Gett's cabs are available in 20 cities, including London, Manchester, Edinburgh, Glasgow and others.
Everything on Gett is done via the app (available for both iOS and Android) – you can't order a taxi by phone, or even on the website – you have to install the app – and register – on your phone.
Gett's Black Cabs VS. Other Private Car Hires
It's important to note that in London, Gett work solely with the famous "Black Cabs" – there are no mini-cabs or private cars a-la Uber. As such, you get the pluses of a black cab – a reliable driver who knows the city by heart, a big car (with XL also available), and strict TfL regulation.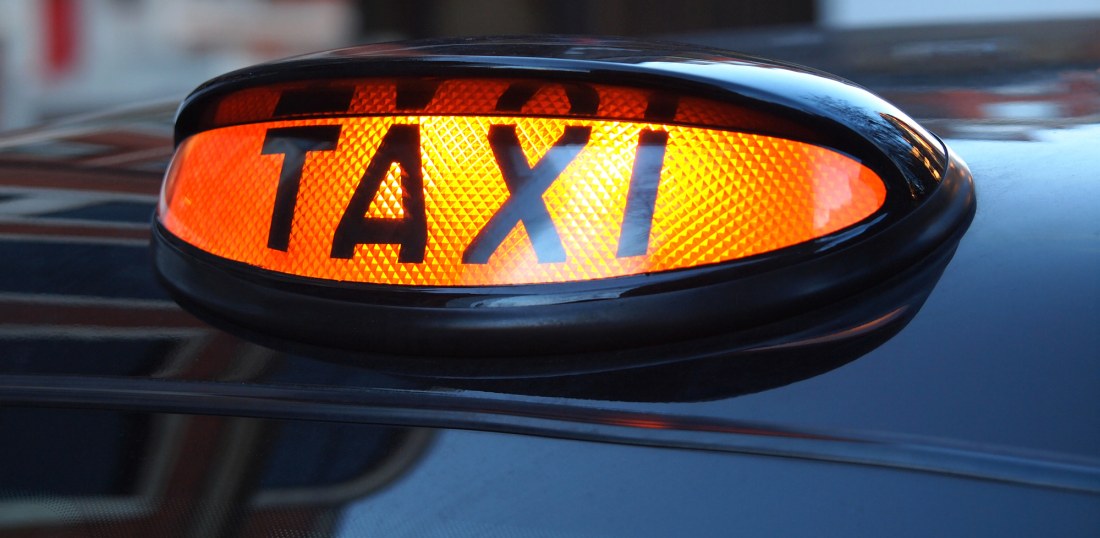 However, you also get the downsides of London's Black Cabs – first and foremost, the price. Black Cabs are notoriously expensive, especially when compared to Uber and some mini-cab companies.
When you're travelling a short distance, the price difference isn't very noticeable – but start taking long rides, and you might end up paying considerably more.
I have a whole separate guide that explains the differences between London's Black Cabs, Mini-Cabs and Uber – so I suggest you check it out if you're a London newbie.
Using Gett To Order A Black Cab
As mentioned, everything on Gett is done via their app – so your first step is to install either the iOS version or Android. (Remember, you can get £15 Off your first rides via this link).
Once you install the app, you'll need to register with your e-mail address and your phone number.
The easiest way to pay for the rides is by adding your debit/credit card. In theory, it's possible to pay with cash to the driver, but Gett seem to discourage that by making it a bit more complicated – once you add a card, every ride will automatically use that card for payment. If you "insist" on paying with cash, you'll apparently need to delete your card from the app.
Once everything is set up, you can go ahead and order yourself a Black Cab.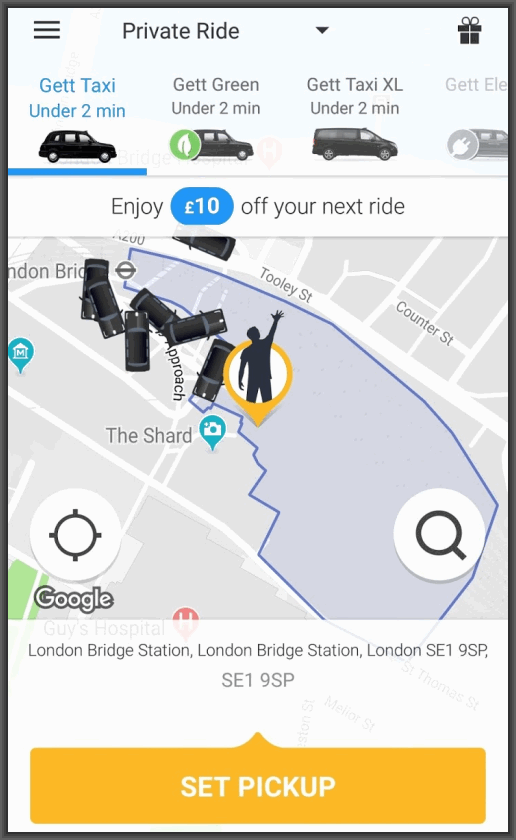 First, you need to set your pickup point (the app will try to pinpoint where you are automatically, using your phone's GPS). Then, you need to set your destination, at which point you'll get a price estimate.
Do note that these are not fixed prices. As with all Black Cabs, Gett's cabs use a meter – so traffic jams and other unexpected delays can change the actual price.
Also keep in mind, sometimes the estimates are just plain wrong. I had a long ride where the estimate was £50-£80, and the actual price was… £125. I contacted Gett about it, and they acknowledged that the estimate for that route was wrong. They fixed it in the app, and were kind enough to give me a small refund. But again – don't trust those estimates, and treat them as a general guide.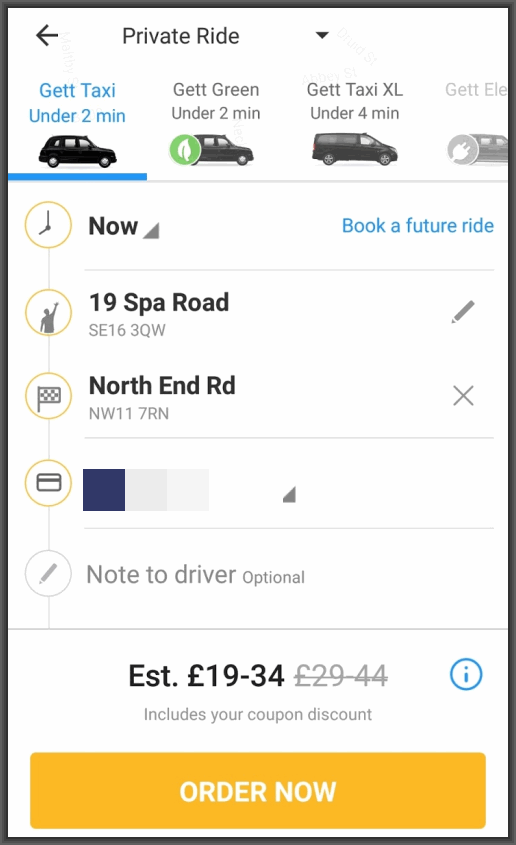 Once you set a destination, you need to choose a vehicle type, which will also alter the price. As of this writing, Gett offer these types of cars:
Regular Gett Taxi
Gett Green – The same cars, but you're agreeing to donate 20p "to fund further clean air projects in London".
Gett Taxi XL – Bigger cars that can accommodate up to 10 people.
Gett Electric Taxi – Only available in Central London, and on certain hours and days.
Gett WAV Taxi – Wheelchair accessible cars.
You can choose to order a cab right now, and you can also book a future ride at a designated date and time.
If you need a cab right now, the app will give you an estimate on how long it should take – depending on how many cabs are around your area. Once you make the actual order, Gett will start looking for drivers around you that are willing to accept that hail.
This is where things get annoying, sometimes. Black Cabs are known for not travelling south of the river a lot, unfortunately. So if you're south of the river, and you're trying to get a cab right now – especially during peak times, or the dead-of-night hours – there's a good chance you'll see the app searching… and searching… and searching… and zilch.
If you're lucky, however (or if you're in central London) – the app will find you a driver who can be with you within a few minutes. (It'll tell you how long it'll take the driver to reach you). You will also be able to see the driver's name, his photo, and his rating (given to him by other Gett customers).
The app then shows you an animation of the driver on his way to you, on the map. I've had cases where the app estimated that the driver will be with me in 5 minutes, and he only arrived after 10 minutes – so take those estimates with a grain of salt.
If you book a cab in advance, you don't have to worry about availability, and you'll get a text message from your driver once he's on his way to you.
All in all, the ordering process is pretty smooth in most cases – with the timings depending mostly on your location, and your luck.
Once your driver arrives, the app will notify you, and the cab's meter will start running (you get two free minutes of 'waiting time'). The meter is highly visible, next to the driver, so you can see how much you're going to pay throughout the ride.
If you want to tip the driver, you can do that within the app as well. You can even set a permanent "AutoTip" – either 5%, 10% or 12%. When you reach your destination, you will immediately get your receipt via e-mail, and at that point you can also rate the driver.
Gett's Cost – And 'Surge Pricing'
Taxi meter fares are regulated by Transport for London (TfL), so the basic calculation is the same for all Black Cabs, and is based on distance, journey time and the time of day. You can find TfL taxi fare tariffs here.
However, Gett sometimes add extra costs to the ride – costs which casual users aren't always aware of:
Minimum Fare: At certain hours of the day (usually during peak times), and in certain areas (i.e. central London), Gett impose a minimum fare which will be reflected in your quote (before your order the ride). If your final far (including tips) doesn't reach the minimum, Gett will charge you the difference.
Gett say that "The minimum fare goes to the drivers to reward the extra effort they make to get to you at busy times."
Technology Fee: This is a pretty name for that is essentially the same as Uber's "Surge Pricing".
"We add a small fee to your fare during times/areas of high demand in Central London and Edinburgh, which helps get more drivers to accept your request."
Uber's surge pricing (where the ride costs more in times of high demand) is often criticised, and it's annoying to see it show up with a Black Cab app. Naturally, you won't pay any extra 'fees' if you hail a cab on the street, so this is indeed a tax on the convenience of ordering with an app.
That being said, throughout the years I've had more cases of having to pay Surge Pricing on Uber, than this Technology Fee on Gett – so just from my own personal experience, it seems to be more common with Uber.
Just don't forget to check your price estimate carefully, so you can see if there's a technology fee, and decide whether you still want to order the ride.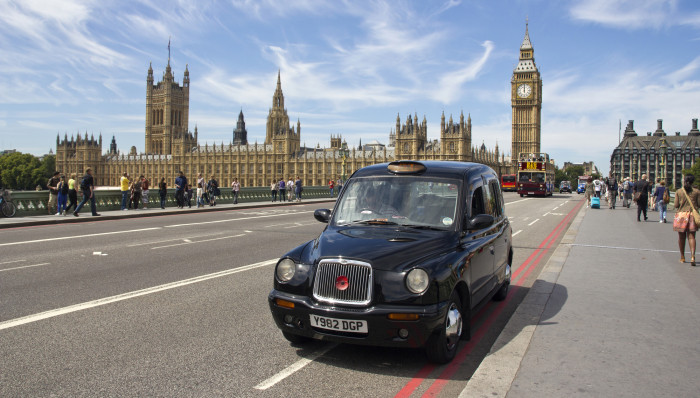 Gett's Loyalty Program
This one's a bit odd. Whenever you take a ride with Gett, you earn points. In Gett's explanation of the scheme, they say:
"We want to reward you for riding with Gett – so if you want to save, simply ride more."
That sounds nice, and I have moved up the ranks from "Newbie" to "Fan" to "Smooth Sailor" and then "Pro", and I'm gunning for "Baller!". (However, I would need 40,000 points to reach 'Majesty').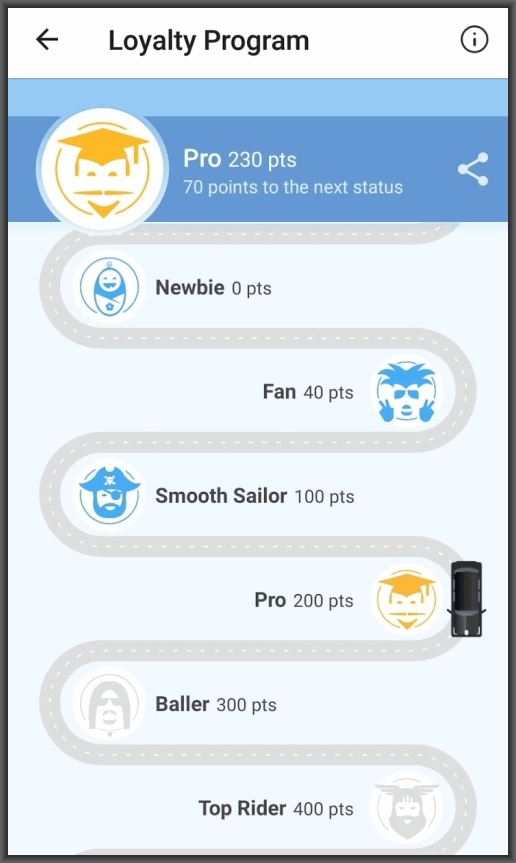 This impressive "Pro" status has given me, so far, ehm… nothing at all. I have absolutely no idea what this loyalty program actually does, and what these points earn you other than that prestigious title.
When I questioned Gett about it, I was told that "When we have coupon promotions on offer we would include these loyal users. There is also an added discount on the added technology fee and we would endeavour to ensure all rides are covered."
That still means nothing specific… if I ever get anything (that I can actually see) via the loyalty program, I'll be sure to update this article…
Is Gett Safe?
This question often comes with when talking about Uber, because their drivers aren't as strictly regulated as Black Cab drivers.
Still, the same can be asked about Gett – after all, you're getting into a car with a stranger (sometimes late at night), and you want to know it's safe for you to do so.
The bottom line? If you trust Black Cab drivers (who are regulated and monitored by TfL), then there's no reason not to trust Gett's drivers. In fact, it's probably even safer to use a Gett taxi than to get one on the street, because you get to see the driver (and his rating) in advance, and there's a record of your ride with him. So if anything goes wrong – the police can get his details from Gett.
As with all forms of public transportation, there can always be exceptions, and there are bad people in every profession – but generally speaking, Black Cabs are a pretty safe and reliable service.
If you have any concern following a ride, regarding a driver, payments, or anything else – you can contact Gett via chat within the app itself. They don't have a contact number, which is a shame, but the support chat is pretty responsive and helpful.
Alternatives to Gett
If you're looking for a black cab, there are several other hailing apps in London:
Free Now (formerly MyTaxi) – Another app-based cab hailing company. In 2016, they merged with another popular app – Hailo. I've used them a few times, and they've always been just a reliable as Gett for me. You can get £5 off by using the promo code or.gor1
TaxiApp UK: A non-profit app that is wholly owned and run by the drivers themselves.
If you're looking for a cheaper ride, you can look into ordering a Mini-cab or Uber. Check out my comparison article for information about Gett Vs. Uber and Gett Vs. Mini-cabs.
Gett Discount Coupon Code
Get £3 Off your first five rides (£15 in total) via this link, or by using the code GTVVAQT in the app.